Become an advocate for public transit.
Advocating for public transit can have significant benefits for communities, the environment, and individuals. Advocating for public transit may take time and effort, but it can lead to positive changes that benefit both your community and the environment. Remember that persistence and collaboration are key to making a difference. At LATS we need your support to grow and better serve the community. We have given the name Ambusadors to those who would represent us in the community. A play on words, referencing ambassadors. There are several ways this can be accomplished, below are some of those steps you can take.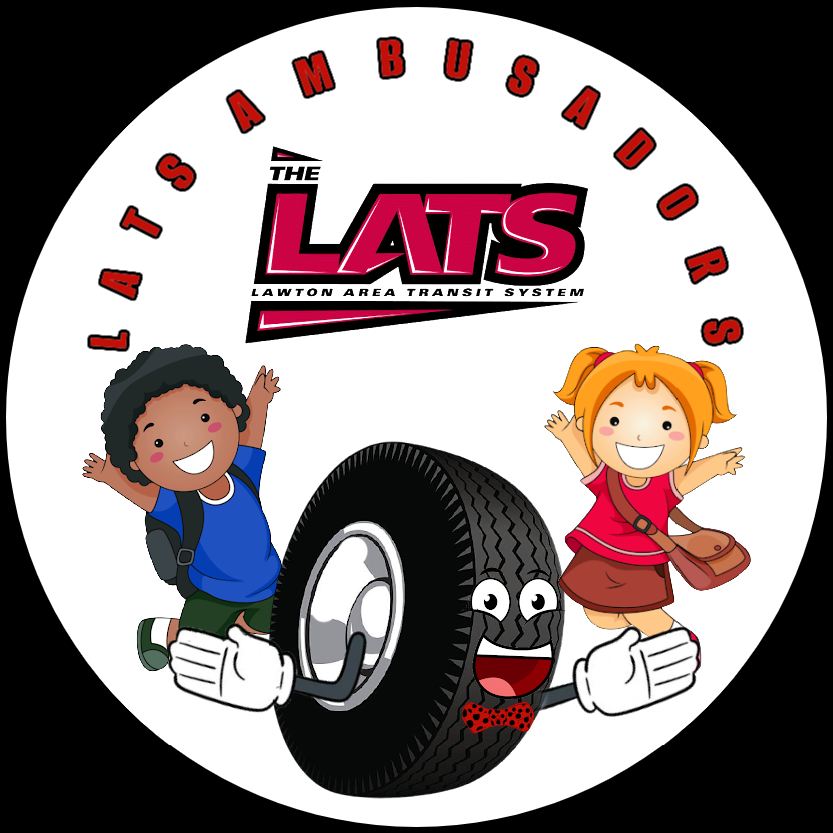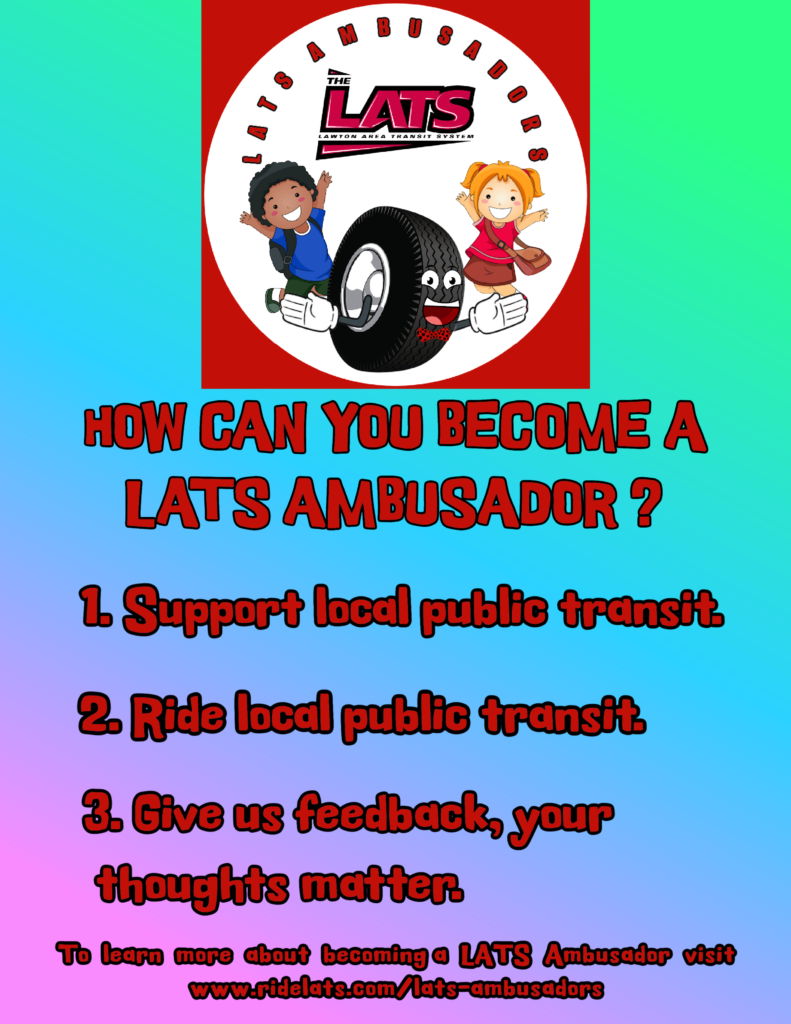 your local public transit needs an ambusador
Public engagement is crucial for ensuring that public services like transportation meet the needs and preferences of the people they serve. Participating in these meetings provides an opportunity for residents to voice their concerns, share ideas, and contribute to the improvement of the transportation system. Remember, your thoughts and feedback can play a vital role in shaping the future of transportation in your area. So, be sure to attend these meetings and make your voice heard! LATS takes pride in being an active member of our diverse community. We actively engage in a variety of events, and we encourage you to join us and show your support. We are also eager to collaborate with organizations that are dedicated to making a positive impact in our community. Let's work together to create a stronger and more vibrant community for all.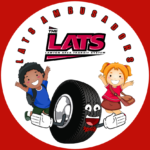 Our partnership with Lawton Public Schools is giving us access to visit our local elementary schools to educate students about public transit.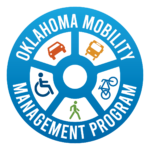 Julie Sanders
South Western Oklahoma Development Authority (SWODA)
420 Sooner Dr.
Burns Flat, OK 73624
580-562-4885
email: [email protected]
Tom Zigler
Association of South Central Oklahoma Governments (ASCOG)
802 W. Main St.
Duncan, OK 73534
580-736-7965
email: [email protected]
ODOT Contact:
Laura Chaney, Transportation Manager
200N.e. 21st St.
Oklahoma City, OK 73105
405-521-2705
email: [email protected]
Local and Regional Transit Operations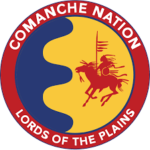 Fax Number: 
(580) 492-6240

10 Steps you can take to be a LATS Ambusador
1. Educate Yourself:
Learn about the benefits of public transit, such as reducing traffic congestion, lowering greenhouse gas emissions, and providing affordable transportation options for all.
Understand the challenges and issues facing your local public transit system, such as funding shortages, infrastructure needs, or service gaps.
2. Join or Support Transit Advocacy Groups:  
Look for local or regional organizations dedicated to promoting public transit. Joining or supporting these groups can give you a platform to voice your concerns and ideas.
Attend meetings, participate in campaigns, and collaborate with like-minded individuals to make a collective impact.
3. Contact Elected Officials:
Write letters, make phone calls, or meet with your elected representatives at the local, state, and federal levels. Express your support for public transit funding and improvements.
Highlight the economic, environmental, and social benefits of public transit in your community.
4. Use Public Transit:
Lead by example. Whenever possible, use public transit for your daily commute or other transportation needs.
Share your positive experiences with public transit and encourage friends and family to do the same.
5. Promote Public Transit on Social Media:
Use social media platforms to raise awareness about public transit issues and share news, articles, and success stories related to public transit.
Use relevant hashtags and engage with local transit agencies and officials.
6. Attend Public Meetings and Hearings:
Attend public meetings, town halls, and hearings related to transit projects and policies. Share your perspective and advocate for investments in public transit.
Encourage others to attend these events as well to show community support.
7. Collaborate with Businesses and Community Groups:
Partner with local businesses and community organizations that can benefit from improved public transit access.
Show them how public transit can boost their customer base, reduce parking demand, and enhance community connectivity.
8. Advocate for Equity and Accessibility:
Emphasize the importance of equitable access to public transit for all members of the community, including those with disabilities and low-income individuals.
Push for policies that prioritize accessibility and affordability.
9. Stay Informed and Engaged:
Stay updated on transit-related developments, proposed projects, and funding opportunities in your area.
Continue to engage with local transit agencies, policymakers, and advocacy groups to stay informed and make your voice heard.